COVID-19 Update:
Find information and support regarding the ServiceNow COVID-19 Customer Care Program and ServiceNow Emergency Response Applications here.
---
Evergreen is a clear industry leader in Service Management, delivering more than 4,000 ITSM projects over the past 20 years. We are a full-service firm, with both process & technology consulting skills, for complete solutions.
ServiceNow Snapshot:
Certified Application Developer, with the most popular application on the ServiceNow Store
Certified ServiceNow Trainer
Over 500 ServiceNow engagements
Consistently one of the highest customer satisfaction scores (CSAT) amongst ELITE partners, worldwide
Why ServiceNow
ServiceNow is a powerful, forms based workflow platform that is also easy to use. It is transforming service delivery in IT and beyond. At Evergreen, we view all Service Management from the customer in rather than the provider out – which we call Customer Centric Service Management. Whether for IT, HR, Facilities, Legal, or Customer Support – the ServiceNow platform gives us the power to create beautiful, self-service experiences linked to "lights out" automation – giving customers services they want while also dramatically lowering the cost and time to deliver those services. In support of this, we developed a complete, beautiful, self-service Portal & Catalog solution in ServiceNow. It is the most viewed and most purchased application in the ServiceNow Store.
Evergreen Evolve for ServiceNow
Customers tell us their biggest problem with ServiceNow is they can't keep up with the demand. Skilled resources are scarce and outside consultants are too expensive and inflexible, so they don't know where to turn. We created Evergreen Evolve (EE) specifically to fix this problem – a modern, unique approach to ServiceNow services that is fast, flexible and very affordable.
Evergreen Instance Analyzer for ServiceNow


Want to check the quality of your ServiceNow code? Would you like to align with ServiceNow published best practices? Now you can! Evergreen's Instance Analyzer for ServiceNow is a powerful, FREE code quality auditor and remediation tool that you can use every day. It is the #1 rated product out of 690 on the ServiceNow store and over 200 companies are using it today.
Evergreen ServiceNow focus areas include:
ServiceNow Training Services
The investment in the ServiceNow platform is substantial in both time and money. Success is not go-live: it's when you achieve broad and effective adoption of the platform in your enterprise; and focused, high-quality training role by role is core to driving adoption success.
Are you preparing to go live with new ServiceNow initiatives? Are you concerned that your employees don't have training that matches the solutions they will be using? Are there "best practices" processes that should go hand in hand with the technology that are not understood or being leveraged effectively?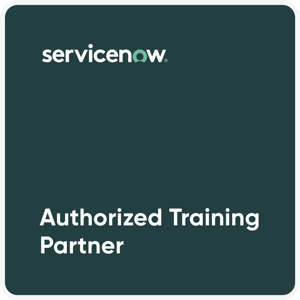 If successful, widespread adoption is the key success metric. As an authorized ServiceNow Training Partner, Evergreen can help. We have a body of pre-built training materials and training knowledge, role by role to help you deliver the value you need. From systems administrators to fulfillers to developers to solution architects, our certified and experienced ServiceNow trainers can help you design and deliver a sustainable training capability, tailored to your implementation and customization of ServiceNow.
Our ServiceNow courses and workshops can arm your team with the skills and knowledge to be successful. We welcome the opportunity to discuss a training program solution for you that is both cost-effective and very durable.
ServiceNow Documentation Services
Every organization configures the ServiceNow platform to meet their business needs. While this may just be system configuration, more often than not it also includes custom extensions and development of forms, workflows and integrations with other systems and processes. Even with a strong focus on leveraging "out of the box" many solutions have a medium to high degree of customization in order to meet specific business needs.
While often overlooked, poor or incomplete systems documentation over time can make your system unsustainable; as initial awareness of the system fades, and those who have deep system knowledge move within or outside of the company.
Evergreen can deliver complete, as built systems documentation, and prevent this problem. This can come in two forms – traditional, text based systems documentation, and a more recent approach that is quickly gaining traction – video based documentation.
Video based documentation is multimedia, and is both easier to prepare and more likely to be used. Typically, a solution architect will record short duration video clips (such as ten-minute lengths) documenting a specific functionality, stepping through the application on screen while describing its design and use. These are then assembled as chapters in a video book format. Video books are more likely to be used, as fewer people are willing to read lengthy systems documentation, and the multimedia approach can deliver a more powerful, longer lasting learning experience in a shorter period of time. Further, video book documentation can more easily be used to train new staff or provide a refresher for existing staff.
Scrimping here can make supporting your system much harder and shorten its useful life.